I love the Shadowed Happy Birthday look!
I have another card to show you, but first I have to apologize for the horrible pic from Tuesday!
It "looked fine" to me until it actually posted on my blog!
I was trying to get a quick pic, and the lighting was awful.
Here's a better pic:
(I went back and fixed the old one, too. 😀 )
Ah. SO much better.
Ok, here's the original card we made with the Shadowed Happy Birthday: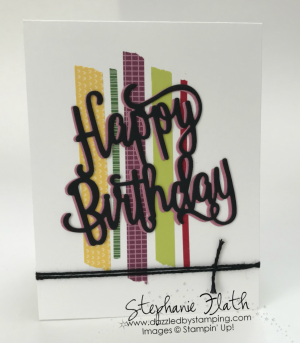 It's so easy!!
Just a little Washi Tape makes a fabulous background!
Here's the quick list:
Have a fabulous weekend!!
Thanks for stopping by!
ps: I get to order catalogs in less than a week!! 😀