NOT including today, there are 10 days left to take advantage of SALE-A-BRATION (SAB)!!!
Are you still thinking about purchasing the ULTIMATE BUNDLE???
What's the ULTIMATE bundle, you ask?
The MOST BANG for your stampin' buck! 😀
THE ULTIMATE BUNDLE
Join my Dazzling Demos Team!!
Choose $125 of product for $99 (+ tax but NO SHIPPING!!)
Choose 2 additional FREE stamp sets, valued at up to $101. (STILL no shipping!)
This Ultimate Bundle is only $99 + tax and is valued at up to $227!
DID YOU KNOW?
You are NEVER REQUIRED to have a class or club.
You can sign up purely for the great deal on this bundle.
You can stay an "active" demonstrator simply by selling/buying $300 of product per quarter.
As long as you stay "active", you get a minimum 20% discount on products–and access to all other demonstrator opportunities (such as the demo only website, attending OnStage, product preorders, etc.)
Obviously, if you want more financial opportunities, those are available as your sales are higher and/or your team is bigger.
As my team member–whether you want to be a "Hobby Demonstrator" or you want to make a business:
I'll help you succeed in whatever way suits you.
You are invited to team meetings with me once or twice a month. (The second night is a bring your own project night.)
You are invited to my Hostess Appreciation Party.
Speaking of my team, here's a swap I received from one of them:
(I have been loving the Picture Perfect Party Suite on pgs 4-5 of the Occasions Catalog.)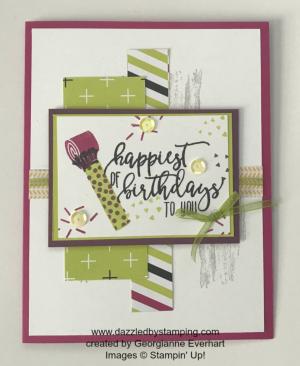 We usually swap cards at my meeting the first Thursday of the month. ♥
By the way, you have the same 10 days to EARN FREE SAB ITEMS!
I just checked our Inventory Status Report, and everything is still available.
Have a fabulous day!!