OH MY!! 😀
When I saw the Ready Shreddie available in our Occasions Catalog (pg 13), I knew just how we had to use it at my Hostess Appreciation Party!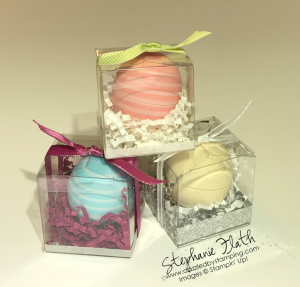 Ready Shreddie comes in a combo pack of white, silver and Berry Burst.
And I got a multi-pack of the EOS lip balm.
I saw lots of different color combos at my HAP.
So cool.
And such a fun, easy project.
Here are all the goodies we used:
Unfortunately Stampin' Up! announced the Whisper White 1/4" Organza Ribbon is UNorderable until toward the end of the month.
The demand for it was completely under-estimated. (Thanks for your understanding!)
(Also, the pic of the Ready Shreddie above definitely seems more pink than in real life. The Berry Burst Ribbon pic and MY pic of the final projects is more true to color.)
Have a great week!
(Did you see my blog this weekend??? New classes + an important deadline this Thursday! Click here to see it..)