Brusho Crystal Color is a new product we have available in the Occasions Catalog.
The end results are amazing and always different–and I wanted everyone to be able to play with it at my HAP!
Here are samples of our projects.
The colors Stampin' Up! has packaged together are Brilliant Red, Gamboge (orange), Moss Green, Prussian Blue, and [not pictured] yellow:
Brusho is a VERY FINE POWDER of color; you add water to spread on your project.
Stampin' Up! suggests NOT opening the lid–but rather poking holes in it with a Paper Piercing Tool or push pin and using like a salt shaker.
Other items you'll need:
Watercolor Paper
Aqua Painters/water (or watercolor paintbrush)
TIME (I prefer to let air dry rather than using a heating tool)
Tear & Tape–helps Watercolor Paper to stay flat
(to get this particular look, I stamped the butterfly in VersaMark and embossed with Clear EP before we added the Brusho)
This one's my favorite: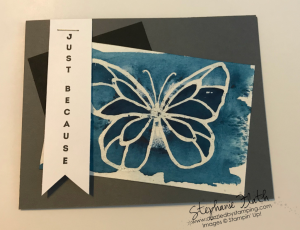 We used a single color of Brusho on each of these projects, but each color has a variation of color within the container to provide an authentic watercolor look.
Here's the Stampin' Up! video on Brusho:
Here's what we used:
Thanks for stopping by today!
Have an amazing day!!