Happy weekend peeps!!
I think Waterfront might be one of the most popular sets in the Occasions Catalog.
And you'll be happy to know it IS a photopolymer set!
There's SO MUCH potential!!
And I finally sat down for a quick card with it. 🙂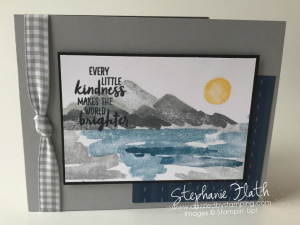 I was kinda goin for an Alaskan look, but I didn't pull out my white embossing powder for snow. 😉
I also pulled out some of my True Gentleman DSP.
The designs in that pack are so sharp!
Here are all the specifics:
(click on any item to place an order)
Have an amazing day and weekend!!