We are in the middle of SALE-A-BRATION (SAB)!!!!
It's such a fun time of year, because EVERYONE can get something free!
I'll "count the ways" in a minute.
But first today's card is brought to you by Georgianne Everhart: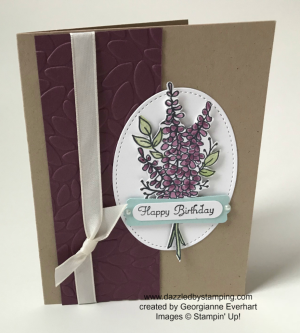 She used the SAB set Lots of Lavender (pg 8 in the SAB catalog.)
And yes, she did fussy-cutting; there's no framelit for it. 🙂
So how can YOU get free stuff???
Let me count the ways!! 😉
THE ULTIMATE BUNDLE
Join my Dazzling Demos Team!!
(Do it TODAY, and you can register for OnStage Milwaukee with me tomorrow!!)
Choose $125 of product for $99 (+ tax but NO SHIPPING!!)
Choose 2 additional FREE stamp sets, valued at up to $101.
This Ultimate Bundle is only $99 + tax and is valued at up to $227!
DID YOU KNOW?
You are NEVER REQUIRED to have a class or club.
You can sign up purely for the great deal on this bundle.
You can stay an active demonstrator simply by selling/buying $300 of product per quarter.
As long as you stay active, you get a minimum 20% discount on products–and access to all other demonstrator opportunities (such as the demo only website, attending OnStage, product preorders, etc.)
Obviously, if you want more financial opportunities, those are available as your sales are higher and/or your team is bigger.
As my team member–whether you want to be a "Hobby Demonstrator" or you want to make a business:
I'll help you succeed in whatever way suits you.
You are invited to team meetings with me once or twice a month. (The second night is a bring your own project night.)
You are invited to my Hostess Appreciation Party.
THE SHOPPING BAG
Shop til you drop!!
Online, at a workshop or club, or even at a class with purchase required, you earn 1 SAB item with EVERY $50 YOU ORDER!
(If you didn't receive a SAB catalog and would like one, let me know! You can also view it to the right of my blog.)

If you order $100, you can choose 1 of 2 premium items in the back of the SAB catalog–Celebrate You Thinlits or Happy Wishes.
HOST YOUR HEART OUT
Have your own party–in your home, online, or at club!
If you are a hostess during SAB and your workshop total is at least $250 in sales, you get to choose an additional $25 of free product (above what you already earn based on the hostess chart on pg 219 of Annual Catalog or pg 53 of Occasions Catalog.) This counts if you just place a $250 order yourself as well.
You ALSO receive SAB items with every $50 purchase of your own.
If you'd like to have an in-home party with friends, contact me now to choose a date!!
We could even have it in my home if that works better for you.
If you'd simply like to do it online, that works! I can set up a hostess code so all your guests can use it to accumulate your sales/hostess benefits and have their own orders shipped to them directly.

I LOVE that there are so many options during Sale-a-Bration to earn free product!!
If you have any questions about Sale-a-Bration, let me know!
Have fun Sale-a-Brating!!