I'm head over heals IN LOVE with the Myths & Magic Washi Tape!!!
You know how you have see something in person to truly appreciate it???
That's TOTALLY this stuff!
I've been showing these Silver Mini Gable Boxes at my clubs this month:
All this Washi Tape has glitter in it! That doesn't flake off!!
The blue coordinates with Dapper Denim.
And here's our new Ready Shreddie, too!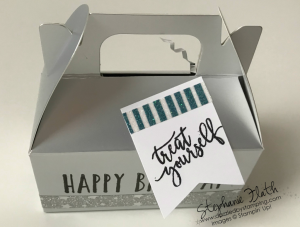 Here's everything I used on them:
You can order your OWN sparkly washi tape by clicking on it above (or any other item for that matter.)
Or click here to order: 

Have an amazing day!!