This is one of my favorite Christmas cards I've made this year.
We made it in my clubs last month–and it has SO MANY of my favorite things on it!!!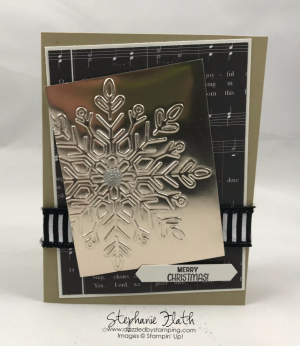 I am IN LOVE with Champagne Foil!!
And I've been using the tiny little Merry Christmas from Seasonal Chums a lot. 🙂
By the way, before I give you the supplies list, ARE YOU INTERESTED IN JOINING A CLUB???
Do you have a friend that would like to join us, too??
I have a Stampers Club that's been going on for quite awhile that needs re-filling. 🙂
A few of my peeps can't commit this year.
We meet every 2nd Tuesday in odd months (January, March, etc) and are restarting in January.

You get a turn being hostess (and earning benefits) and are committing to ordering a minimum of $25 each time to guarantee benefits.

We meet at my house, and everything gets shipped here, too–unless you place an online order and have it shipped direct.

OH–another great perk is an invitation to my Annual Hostess Appreciation Party! It's fabulous!!

Let me know soon if you have an interest please!
Ok, here's all the supplies for my card: 
(click on any item to go right to my online store!)
Have an amazing day!!