Ta da!
Here is the amazing Painted Harvest card my clubs have been making this month.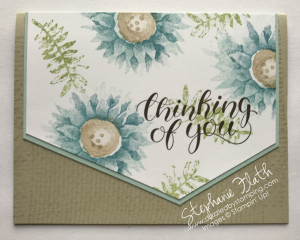 I've been seeing so many samples with this card on Pinterest!!
I love the 2-step watercolor look!!
It's beautiful and very "forgiving" as far as stamp placement goes.
Somewhere I saw this different kind of cut, too.
But I wanted completely different colors.
We're also gonna make this card (BD version) at my Birthday Stack next week.
If you're interested, you have til this Saturday, 9/23, to sign up!
Here's what we used (Crumb Cake is the center; Sahara Sand is the background/card base.):
Happy Wednesday!
Have a wonderful day!!