I LOVE my cards with this technique!!
We made this card last week at my Techniques Class.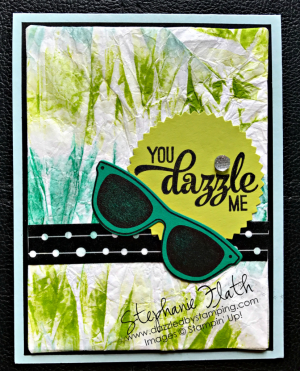 I chose the colors–Soft Sky, Lemon Lime Twist and Emerald Envy–based on one of my favorite designs in the Naturally Eclectic DSP.
This cool background is made with coffee filters, baby wipes and your favorite ink pads.
(However–maybe it's just the "cheap?" baby wipes I used or maybe they were old/drier–fuzzys from the baby wipes were left behind on the ink pads. :/ )
Besides the filters and baby wipes, we used gluesticks to wrap the filter around thick cardstock.
And here's everything else:
Tye die technique:
Crumple a coffee filter and flatten back out somewhat.
Bunch it up in kind of a roll.
Take a baby wipe–bunched up a bit–and blot at your lightest color ink pad to pick up ink.
Rub/pounce ink onto the filter on one section of the roll–opening up the roll gradually to make a stripe.
There shouldn't be a lot of white left in the stripe–but there will be some, because the filter is still a bit crumpled.
Repeat steps 3&4 until your stripe seems to be inked well.
If you want another stripe that color, do the same on another section (the other end?) by repeating steps 3&4 again.
Choose the next (medium) color AND A NEW BABY WIPE and repeat steps 3-7, as desired.
Choose the darkest color AND A NEW BABY WIPE and repeat steps 3&4, as desired.
Open roll back up to see if you're happy with how it's inked; if not repeat any necessary steps.
Flatten out coffee filter somewhat.
Dry the coffee filter with a heat tool to speed up drying the ink.
Completely cover one side of thick cardstock with gluestick.
Press cardstock onto the coffee filter well.
Cover the edge of one long side of the back side of the thick cardstock and wrap that filter edge snugly onto the gluestick.
Repeat 14 on the other long side of the thick cardstock.
Cover one short side with gluestick; tuck the corners of the filter in like wrapping a present and wrap snugly onto the gluestick.
Repeat 16 on the other short side.
Attach to your background to your project as desired. I'd suggest a good amount of adhesive or a strong one.
My sizes here are a normal 4 1/4" x 5 1/2" card base; 3 7/8" x 5 1/8" black matte; 3 3/4" x 5" thick cardstock.
I have one more technique + more samples for you later this week.
Enjoy your day!!
Oh and hey–if you're liking these cool samples/techniques, sign up for my techniques class, Tuesday, August 29!
At the next one we'll be using Window Sheets. 🙂
Save
Save