I had SO MANY samples for my techniques class (baby wipes) last month that it SEEMS like it's never–ending!
However, I think this is the last one.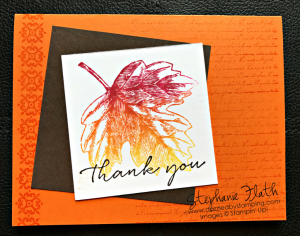 This technique is the one where we made an ink pad with a baby wipe and ink refills.
I again wanted an ombre look or gradual color change–rather than splotches of color–so I kinda made rows of my colors: Cherry Cobbler, Pumpkin Pie and Daffodil Delight.
Both of these sets used here were ones I didn't initially think I needed.
And I was TALKED RIGHT INTO THEM with some beautiful samples!
(Sound familiar???)
I'm kind of a sucker for a script background (kind of faint on the right side of the card.)
It's from the current hostess set Background Bits.
Here's all you need besides the baby wipes (and a styrofoam/non-porous plate to hold it):
 Have an amazing day!!
Save