Have I mentioned my love of the Night of Navy Gingham Ribbon we have in the catalog now?
Last month I shared this treat "box" at my clubs–and just HAD to use the ribbon: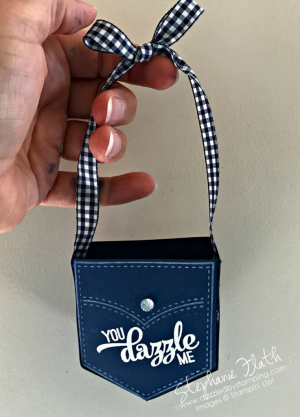 To make the handle even cuter, I tied a bow in the middle of the ribbon before securing the ends to the inside of the box.
Cut 2 pockets with the thinlit/Big Shot (has tabs on the edges.)
And for the thickness of the box. cut a strip 1" (or choose thickness) wide and 7 1/2" long.
Score this strip at 2 1/4", 3 3/4", 5 1/4".
Attach the tabs to the strip to make the box.
By the way, in case you're wondering……Ghirardelli Chocolate Squares would fit perfectly in this beauty! 😉
Reminders:
New Stampers Clubs–food for thought:
As much as I don't like to say it….summer is almost over, and I have a couple different sets of people who are interested in restarting up a Stampers Club. Are YOU interested?
I'm looking for a few people in each, and we'd meet every other month.
One club can only meet on a Tuesday afternoon (1pm?). In the past we met the 2nd Tuesday of odd months. I'm guessing that's what we'd aim for again.
The other club CANNOT meet on Tuesdays. We're looking at a Monday, Wednesday or Thursday afternoon or possibly a Monday or Thursday evening.
Have you been wanting to join a club? Does the timing of one of these work for you?
Please let me know, so we can get the clubs going!
Here's what I used for the treat box:
Have a wonderful day!!
Save
Save