Happy Monday people!!
I have to say this little GEM of a bundle has made me fall in love with the color Night of Navy!!
Who would have thought??????
I mean I liked it before ok, but I can't get enough!!!
I already mentioned the gingham ribbon, but it's also my favorite design in the Delightful Daisy DSP.
So here's my 2ND favorite Daisy card: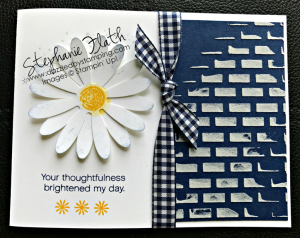 I also adore the embossing paste with the brick mask. 😀
Here's a quick list for you:
Have an amazing day!
Save