Before I show you this great card, I want to confirm my previous suspicions…
Sale-a-Bration/SAB items–specifically any NON stamp set–are available WHILE SUPPLIES LAST!!
And it seems we'll get no warning on these items (no show on low inventory status report), because one already dropped off the map!
You can no longer get the free/SAB Card Tin.
There are still plenty more free items to choose from with every $50 purchase, but if you have something specific in mind, order sooner than later!
Here are your Sale-a-Bration options at the moment:
Ok, so I told you I'm working on doing better at getting birthday cards out–AND ON TIME!!
However, I can't send something on time if I don't know your birthdate!! You can still comment below to let me know your date! You don't even have to tell me the year. I'm nice that way. 😉
My niece Joy's birthday was last month, and I sent her a version of the shaker card I've been making for workshops recently.
It got her wheels spinning, and yesterday she shared this card with me that she made!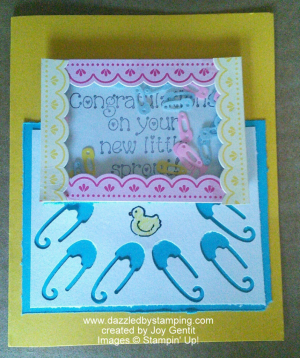 How adorable is that???
Love those diaper pins. 🙂
I'll share my original card eventually….
Not sure I'm done showing it at workshops yet. 😀
Ok, DON'T FORGET:
Have a fabulous day!!