That's the best description I have for my Christmas Stamp-a-Stack. 🙂
And I'm SO EXCITED!!!
This is probably one of the easiest classes I've ever had, but the results are fabulous!!
Especially if you're looking for a WHOLE LOT OF CHRISTMAS CARDS in a short period of time.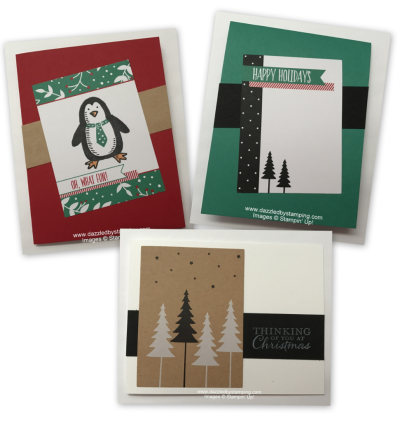 We're using the Hello December 2016 Project Life Card Collection–which does SO MUCH of the work for us!!
In the above samples, the only stamping done was the Penguin + tie (and coloring the beak/feet) and "Thinking of you at Christmas" on the bottom card.
The rest is the Card Collection design–or obviously adding the card bases and coordinating cardstock layer.
In other words…..simply assembling!
Aaaahhhh!!!
HOW COOL IS THAT???
IN THE CLASS, we're making 20 different Christmas cards (includes envelopes).
By the way, I didn't use any embellishments—on purpose. They are simple and cute and mail easily with no extra postage even in question. If you LIKE BLING, you can easily add it yourself.
But what you're taking home (the rest of the Project Life Card Collection), could:
make a minimum of 30 more cards OR
make an advent calendar OR
be used as design elements in your scrapbooks (some of these are left even if you also make the additional cards or advent calendar)
LOVE, LOVE, LOVE!!
Ok, you only have til Saturday, 11/19 to sign up!!
Click here for the date you want (and don't forget to bring your adhesive!):
Have a fantastic day!!!
Remember, if you can fall in love with a project, you can learn to create it! Here to help you channel your inner Creative Genius…
Steph
LIKE me on Facebook.
Follow me on Pinterest.
Subscribe to my FREE newsletter, and receive my "5 Tips for Making Fabulous Hand-Stamped Creations."
Save
Save
Save