If you like puns…
Or if you like bears…
Or if you fish…
Or if you like the outdoors…
OR………….
If you're from Boston……….
You'll love this card!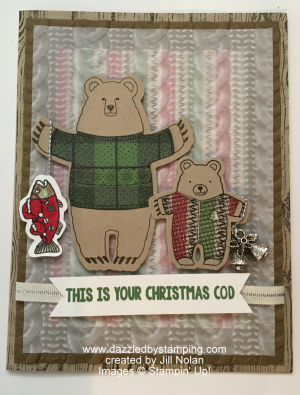 Ha!!
Clearly I didn't see the fish at first–and the all CAPS messed me up–cuz the first thing I thought it said was C.O.D. (cash on delivery?…I was in accounting before I became a demonstrator. 😛 )
I knew that was wrong so then what came to mind was the greeting used a Boston accent! (I really think people from Boston need to buy this set!!)
Then I figured it out.
Love it.
I received this great card as part of my demo swaps–and it's chock full of Holiday Catalog items!!
Cable Knit Dynamic embossing folder (twice! 2 different layers)
Warmth & Cheer DSP Stack (including the paper PIECING on the bears' sweaters! Paper piecing = stamping an image; stamping again on DSP; cutting out the DSP image and piecing onto the original image)
Christmas Trinkets Embellishments
And it came as no surprise to me that the designer of this card is Jill Nolan.
She's amazing.
Her cards are often the ones that I say, "That's FABULOUS!! But there's NO WAY I'm doing that!!!!" 😉
Hope you enjoyed it too!
I'm wondering how many of you would put this much time into your Christmas card–even if just for 1 or 2 people? Tell me in the comments below!
Have a wonderful day!!
(2 more days til World Card-Making Day!!!)
Remember, if you can fall in love with a project, you can learn to create it! Here to help you channel your inner Creative Genius…
Steph
LIKE me on Facebook.
Follow me on Pinterest.
Subscribe to my FREE newsletter, and receive my "5 Tips for Making Fabulous Hand-Stamped Creations."