I'm not sure it's actually here yet–I thought it was supposed to get colder again–but I'll take it when I can get it!
I took Todd to work the other morning, and we heard TONS of [toads? frogs?] in the marshy area next to his building. That was kind of a strange and unexpected noise already.
I love the sounds of spring and summer!
So many birds in the early morning….love it.
Well I've been in the mood for butterflies.
And I saw a great color combo on Pinterest recently.
So here you go: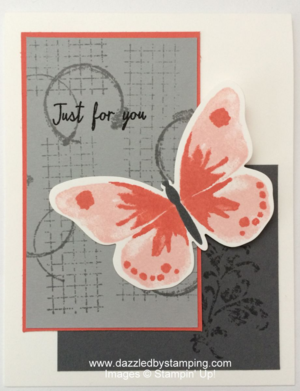 I paired the Watercolor Wings bundle with Timeless Textures from the Occasions Catalog using Basic Gray, Smoky Slate, Calypso Coral, Blushing Bride and of course, white & black.
I'm totally loving the new Archival Basic Black.
It's my "go to" black now.
So….Happy Spring!! (or at the very least…Happy Spring Day!!!) 😉
Have a fabulous weekend!!
(Kind of excited–my first Mommy & Me class is tomorrow!)
Remember, if you can fall in love with a project, you can learn to create it! Here to help you channel your inner Creative Genius…
Steph
LIKE me on Facebook.
Follow me on Pinterest.
Subscribe to my FREE newsletter, and receive my "5 Tips for Making Fabulous Hand-Stamped Creations."