Ok, I was supposed to post this yesterday, but I never finished putting it together.
Sorry!
I finally have all my Christmas cards in the mail!!
Yay!!
Yah.
I don't wanna brag but….
got them in the mail a whole 4 days before Christmas.
Yep.
I'm good like that.
(And if they're not in the mail, they must be hiding in the couch. :/ )
I REALIZE it's still Christmas and lots of festivities are still coming up, but I wanted to share non-Christmas again today.
Here's a beautiful project from the Occasions Catalog: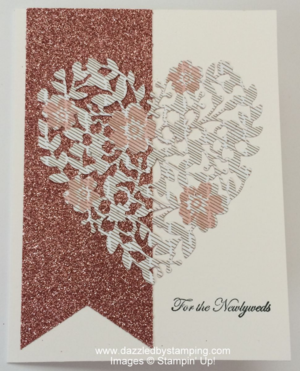 3 amazing new products are the focus here!
Bloomin Heart Thinlit
Blushing Bride Glimmer Paper
Big Shot Die Brush
This is an amazingly detailed thinlit, so Stampin' Up! released their die brush just in time!
No more using toothpicks to individually remove all the cut pieces from the die.
Just run the brush over the cut piece on the accompanying mat and VOILA!!
And how gorgeous is the new Glimmer Paper?!?!
GOTTA love it!
Rather than going "Valentine's" on this card, I thought it would make a perfect wedding or anniversary card.
Hope you're all enjoying your last minute details of the season!
Don't forget to check out some deals for yourself!!
And the Year End Sale is still going on here until January 4.
Oh!! They added more items to the sale, too!
Thanks for stopping by!
Remember, if you can fall in love with a project, you can learn to create it! Here to help you channel your inner Creative Genius…
Steph
LIKE me on Facebook.
Follow me on Pinterest.
Subscribe to my FREE newsletter, and receive my "5 Tips for Making Fabulous Hand-Stamped Creations."