Just gonna leave this here….
Cuz I wanted to share.
And I'm running out of time again.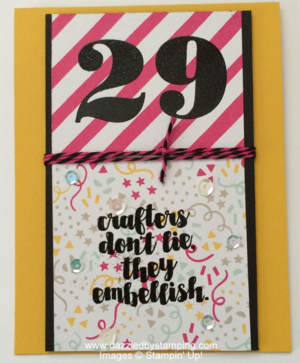 Ha!!
Probably my favorite card I've made with this exclusive hostess set so far.
(Also used Larger Than Life Alphabet & Numbers set. Oh!! And the new It's My Party DSP stack!)
You ready to book a workshop yet?? 😀
Have a great day!!
Remember, if you can fall in love with a project, you can learn to create it! Here to help you channel your inner Creative Genius…
Steph
LIKE me on Facebook.
Follow me on Pinterest.
Subscribe to my FREE newsletter, and receive my "5 Tips for Making Fabulous Hand-Stamped Creations."