Ok, here's MY version of one of the swaps I received at the On Stage Milwaukee event:
Can you tell I LOVE Holly Jolly Greetings?!?!
This is one of the 5 designs we'll be making IN ONE WEEK!! And you get to make 3 of these.
(You have through today to sign up for my Christmas Stamp-a-Stack.)
By the way, I just noticed that you can't see the time of the event on my Events Calendar unless you actually click on the specific event. It starts at 7pm. 🙂
So in case your colors are different on your device and you can't tell….the colors of this card are Basic Gray, Smoky Slate, Pacific Point and Whisper White. Oh–and silver glimmer paper.
Now let me tell you just a little bit about the On Stage event I attended in Milwaukee.
IT WAS FABULOUS!!!!!!
There.
Ha!! No really, it was so inspiring!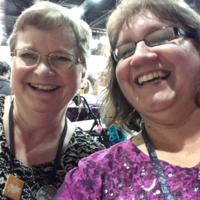 My downline Nadine and I went Friday (I had "managers" event that night, too) and spent the night for the day-long event Saturday.
We made new friends, received gorgeous swaps! [make a bunch of cards/"swap" them with a bunch of people], played with new products *Ü*, received several prizes/new products, and learned so much!
And we have so many new ideas!!!!!
It was an amazing day–and something Nadine and I both really needed.
And it really makes me want to have YOU on my team as well!
I'm GONNA ASK YOU. So be thinking about it. 🙂
In the meantime, don't forget to sign up for Christmas Stamp-a-Stack (or the Christmas Party/Ornament Exchange, too.)
And have you looked at the Holiday Catalog Retiring List yet?
You BETTER! Or you may be sorry!!
Have a wonderful day!
Remember, if you can fall in love with a project, you can learn to create it! Here to help you channel your inner Creative Genius…
Steph
LIKE me on Facebook.
Follow me on Pinterest.
Subscribe to my FREE newsletter, and receive my "5 Tips for Making Fabulous Hand-Stamped Creations."