Who doesn't love Lovely As a Tree???
Well, I know one person, but I won't call out any names. 😉
It's a classic set!
Perfect for fall, Christmas, masculine, spring……….
It is so well-loved (and still a best seller, we've been told by Stampin' Up!) that it's been around longer than I have been a demonstrator! Over 13 years!!
Here's a perfect example of why it's still around: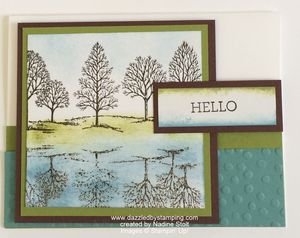 I love this reflection Nadine Stolt created with the row of trees!!
Her colors here are Lost Lagoon, Pear Pizzazz, and Chocolate Chip.
By the way, this stamp is my favorite part of the set. Mine is so well loved that the sticker is almost worn off the block!
I think if, God forbid, Stampin' Up! EVER retired this set, we'd need to have a ceremony something like in basketball when they retire someone's number…raise it to the roof!! *Ü*
If you don't have your Lovely As a Tree set yet, you can order it anytime online!
Don't forget today is Tuesday–new Weekly Deals!
AND you have 2 DAYS to register for my Christmas Stamp Camp!!
Have an amazing day!!!
Remember, if you can fall in love with a project, you can learn to create it! Here to help you channel your inner Creative Genius…
Steph
LIKE me on Facebook.
Follow me on Pinterest.
Subscribe to my FREE newsletter, and receive my "5 Tips for Making Fabulous Hand-Stamped Creations."