First of all, THANK YOU AGAIN for your patience regarding the Tin of Cards back orders!!! I SO APPRECIATE YOU!!!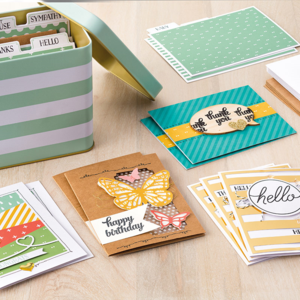 Second, Kits are on their way!! They should arrive Tues, 9/1.
If you've paid for the class, it'll be here soon!
Third, they [new orders] are still on back order, but it looks to me like they might be off back order by mid-September. (relatively few kits on back order and 3 large shipments of kits expected in the next 2 months–but that's MY perception from the specifics they've shared with us.)
Ok I have several options for your Tin of Cards Class—and you DO need to re-sign up please. I'm not just assuming one date works for you.
Wednesday, 9/2, 10am, my home, RSVP
Tuesday, 9/8, 7pm, my home, RSVP
Thursday, 9/10, 7pm, my home as planned (CLOSED to anyone else)
I'm also offering that the Tin of Cards could be worked on at the dates I set aside for the Watercolor Wishes Kits; if you, in fact, want to order the WW kit and/or sign up for it, RSVP as usual on my events page.
If you want to work on the Tin of Cards, here are the dates, but you'll need to call or email me directly:
Thursday, 9/17, 7pm, my home
Tuesday, 9/22, 7pm, my home
Keep in mind…you will NOT have time to complete both kits in one night.
I also confirmed my dates at the HSB for my October classes!!
If you have any questions about ANY of the classes, let me know!! 🙂
Thanks again for your patience!! "I'm excited for these classes!!
Steph