…so to speak. 😉
Decided to combine a couple Christmas sets from the Holiday Catalog to make a cute birthday card: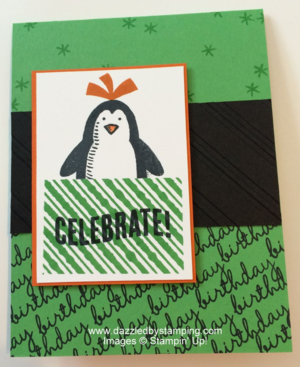 I love penquins on cards for some reason!
And who wouldn't want him popping out of a box for their birthday?? 😀
The sets are Snow Place & Your Presents (both available to order Sept 1).
Plus, I used Celebrate Today.
I just realized you probably can't see the Stylish Stripes embossing I added to the black cs to bring out the striped theme.
As always, cuter in person…. 🙂
And have I mentioned just how much I LOVE Cucumber Crush????
It is such a fun green!!
If you were a lover of Gumball Green, then this is your new color!
Ok, quick update: all Tin of Cards Kits have shipped!
They should arrive TUESDAY, Sept 1.
I'll have a separate on classes.
Thanks so much for your patience!!!!
Have a great day!! (and weekend)
Remember, if you can fall in love with a project, you can learn to create it! Here to help you channel your inner Creative Genius…
Steph
LIKE me on Facebook.
Follow me on Pinterest.
Subscribe to my FREE newsletter, and receive my "5 Tips for Making Fabulous Hand-Stamped Creations."