I added 2 new classes to my events calendar:
STAMP-A-STACK, Tuesday, 2/24, 7pm, my home
We will be making a stack of cards using mostly Occasions and SAB sets–15 cards with envelopes (3 each of 5 designs.) The class fee is $30 and includes everything you need. If you place a $50 order at the class, the class is free. PLUS, you'll earn a free SAB item!
RSVP deadline is Tuesday, 2/16.
SHELTERING TREE MINI-STACK, Thursday, 3/26, 7pm, my home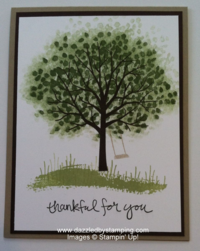 We're making 6 cards with envelopes (2 each of 3 designs) focusing on the amazing Sheltering Tree stamp set in the Occasions Catalog, pg 22!
You don't HAVE to own the set to attend the class; however, it may be helpful to have a couple extra sets and blocks at the class.
Class fee: $15, includes all supplies + envelopes needed
RSVP deadline: Friday, March 20
Note: This card is one we made at my Hostess Appreciation Party (won't be at the class.) I like having different colors in the leaves. To get that effect on this card, we used "The Donna" technique….Stamp once like normal; THEN without reinking again, stamp again many times moving around just a little bit with each impression. This gives the blended or graduated color–WITHOUT using several different ink colors! Perfect for quicker stamping or when making several of the same cards or when stamping in a large group. 🙂
There's still more to come…….
Remember, if you can fall in love with a project, you can learn to create it! Here to help you channel your inner Creative Genius…
Steph
LIKE me on Facebook.
Follow me on Pinterest.
Subscribe to my FREE newsletter, and receive my "5 Tips for Making Fabulous Hand-Stamped Creations."