Have I told you before??
I LOVE MY CUSTOMERS!!!
And I LOVE MY HOSTESSES!!!!!
Because of the extra commitment my hostesses make to me, I like to show them I appreciate them.
So from the beginning, 13 years ago, I started having a "thank you" event.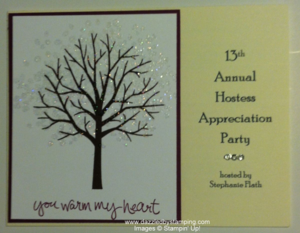 It's my favorite event of the year!
If you weren't able to make it, I'm sorry. We missed you!!
But I still appreciate you!!
I also appreciate my family so much for their help throughout the year–and at this event, too. I COULD NOT DO "MY JOB" WITHOUT THEM!! Todd & Elizabeth are always helping me set up for events.
A lot of the responsibility for these events has shifted.
Tyler used to always help me with EVERYTHING. For Hostess Appreciation, I think a few years, Tyler made most of the food while I was still busy prepping stamping stuff. He'd get done with school early and get to work for me. Now he's gone a lot.
For the past couple years, TODD has been helping in the kitchen. (He NEVER used to cook.) And he even took a half day off Friday to help out. (I didn't even ask him.) Thank you, My Love!!
And his stuff was a HIT!! His meatballs were FABULOUS!! And his Betty is always a crowd-pleaser. He made A LOT of it this year, so it wasn't gone in the first 5 minutes! 🙂
Anyway, I was asked for recipes. So here they are. If there's something I didn't include that you really wanted, let me know. I just included the "big stuff":
Click on the name to view/print the recipe:
Todd's 3 Meat Italian Meatballs
Oh, and in case you weren't there, Tyler and Nate (one of my new sons) each brought me flowers to the party. I love them!! (the flowers AND the boys!)
They wanted me to combine the bouquets into a great big one. 🙂
Warms my heart!
Hope you're enjoying my blog bombing today! 😀
I have one more for you–just in case you need a quick last minute idea.
See you soon!
Remember, if you can fall in love with a project, you can learn to create it! Here to help you channel your inner Creative Genius…
Steph
LIKE me on Facebook.
Follow me on Pinterest.
Subscribe to my FREE newsletter, and receive my "5 Tips for Making Fabulous Hand-Stamped Creations."