Yes, I cried.
But not as much as I thought I might. 🙂
It was such a special night, and we met Nancy's other cousin/best friend, Sue.
It was good to be together.
We were also able to spend time with and comfort another friend of mine, Margie, whose mom passed a few hours before Nancy.
Here's our bouquet: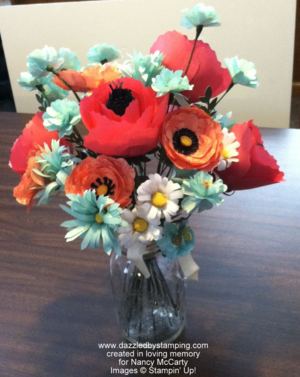 Thank you so much Fran, Sue, Courtney, Keana, Diane Bow, Nadine, Diane Field, Ruth, Sarah and Margie for helping build this beautiful bouquet.
I'm thankful I was able to spend this special night crafting and sharing with you.
On a business/project note….
I love the finished product, but I personally feel it's definitely one you want to work on together with others.
There are 5 different types of blossoms–and 5 of each kind (one of which has 3 blooms to each.)
We shared the work, and 11 of us worked on it a couple hrs.
It's a good way to spend time sharing.
Have a wonderful weekend!
And if you think of her, keep Nancy's family & Margie in your prayers.
Remember, if you can fall in love with a project, you can learn to create it! Here to help you channel your inner Creative Genius…
Steph
LIKE me on Facebook.
Follow me on Pinterest.
Subscribe to my FREE newsletter, and receive my "5 Tips for Making Fabulous Hand-Stamped Creations."