THAT'S what I have to share today!
UPDATE:
Elizabeth had an amazing time at TEC….
Her fb post: "I had the best time at TEC this weekend. I originally went of my own free will, but it was really sorta just to see what it was all about. I have never felt so loved or so close to God in my life! Anywhere you turned you got a hug regardless of whether you wanted one or not haha. It was amazing and I would do it again in a heartbeat, and I'm making all my friends go!"
She needed an extra "down" day on Monday. She thought it was Saturday all day yesterday. 😉 Seems to be functioning a little better today.
If you'd like more info, just ask me–or HER!
ps: As I had already "guaranteed", she did NOT see my emotions coming out when I dropped her off. 😉 But that involves one of the surprises I can't mention.
REMINDERS:
You have 2 more days to sign up for my Occasions Stamp-a-Stack!
I'm having a free Catalog Preview/Class on May 1 BUT you can only WIN (or bid on) 1 of 3 spots. Click HERE to see how! The deadline for one of the ways is only a week away. The others are 11:59pm, 4/21/14. The more times you enter, the more chances you have!
DEALS: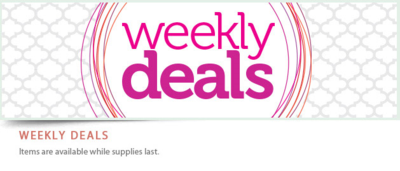 Here are the deals for the week, 4/8 – 4/14….
#121006 $4.95
Discounted Price: $3.71
Gingham Standard Stampin' Around Wheel
#130110 $6.50
Discounted Price: $4.88
Island Indigo Baker's Twine
#125575 $2.95
Discounted Price: $2.21
Make A Cake Clear-Mount Stamp Set
#126742 $11.95
Discounted Price: $8.96
Punch Pack
#118309 $16.95
Discounted Price: $12.71
Recipes By Design Digital Kit – Digital Download
#118869 $9.95
Discounted Price: $5.97
Secret Garden Framelits Dies
#129372 $24.95
Discounted Price: $18.71
Hope you're enjoying the feel of Spring we're finally getting around here!
Have a great day!
Remember, if you can fall in love with a project, you can learn to create it! Here to help you channel your inner Creative Genius…
Steph
LIKE me on Facebook.
Follow me on Pinterest.
Subscribe to my FREE newsletter, and receive my "5 Tips for Making Fabulous Hand-Stamped Creations."