Good morning!!! Happy Monday!!!
I have one more project to show you from the Hostess Appreciation Party.
But first, in case you are interested and didn't see it, someone asked for hints on how to make the winning Contest Card.
Go HERE and click on comments for tips from Michelle and I.
So here's one more project we made–a hand sanitizer (mini) gift box: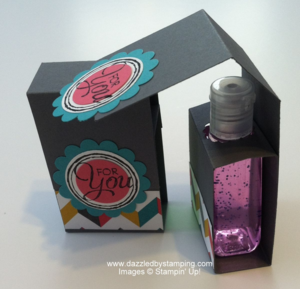 This is another item I'll have instructions for in my next newsletter.
It's actually pretty easy–just need a few measurements!
(Sorry! Newsletter didn't happen this weekend; taxes trumped newsletter! But it will happen soon!!)
To sign up for my newsletter, subscribe on the left side of my blog.
Have a wonderful week!
Remember, if you can fall in love with a project, you can learn to create it! Here to help you channel your inner Creative Genius…
Steph
LIKE me on Facebook.
Follow me on Pinterest.
Subscribe to my FREE newsletter, and receive my "5 Tips for Making Fabulous Hand-Stamped Creations."