I know this is over a week "late", but I have some Shoebox Swaps to share with you.
And this is a great week to take advantage of some quick blog posts….
It's the FINAL COUNTDOWN to my Christmas Stamp Camp!!
I'm SO EXCITED!!!
But if you know me at all, you know I have a lot of work to do yet! 😉
Here's my take on a couple of the cards from World Card-Making Day…
from Janine Woodhull: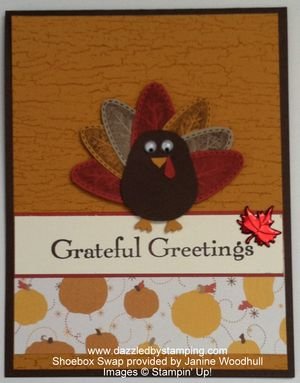 from Mary Bearss:
I'll be back tomorrow with more!
Have a great day!
Remember,
if you can fall in love with a project, you can learn to
create it! Here to help you channel your inner Creative
Genius…
Steph
LIKE me on Facebook.
Follow me on Pinterest.
Subscribe to my FREE newsletter, and receive my "5 Tips for Making Fabulous Hand-Stamped Creations."