My customer, Connie Good, that is….
She hostessed a workshop with me a couple months ago, and part of her thank you gift from me was a couple of the Frosted Finishes Embellishments.
She instantly thought "Jewelry!" when she saw them.
Earrings to be exact!
Fast forward to last week >>>>>>
I FINALLY remembered to "get on her case" 😉 to give me a picture of the earrings she made (I think the same night as her workshop!)
Here she is: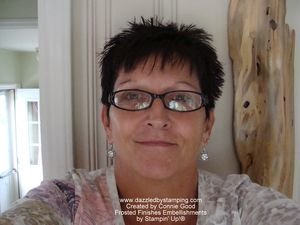 And here's a closeup: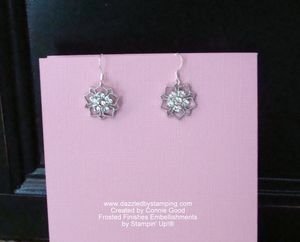 I LOVE THEM!!
Comment below and tell her what YOU think!
Thanks, Connie, for the great idea!
Remember,
if you can fall in love with a project, you can learn to
create it! Here to help you channel your inner Creative
Genius…
Steph
LIKE me on Facebook.
Follow me on Pinterest.
Subscribe to my FREE newsletter, and receive my "5 Tips for Making Fabulous Hand-Stamped Creations."