It just occurred to me in the past couple days that Stampin' Up! doesn't talk about World Card-Making Day anymore!!
What happened?!
Well, I haven't a clue how long ago it was first brought to my attention–but whenever that was–I started a beloved tradition.
An Annual Shoebox Swap–on World Card-Making Day
(first Saturday in October)
I didn't want another "class" for everyone to pay for.
(Although, now there IS a fee cuz we can't fit it in my house anymore!)
But OF COURSE I wanted to celebrated CARD-MAKING!!!
It's a fun day FULL of stamping!
(And eating. Used to be potluck. Now it's pizza.)
Everyone's a designer.
(or copier. Even my kids would design a card. Now, Elizabeth's just coming to hang out….but she'll probably see a couple she REALLY wants to make. Tyler's just coming to gab and eat pizza.)
A few of my regulars had to cancel. 🙁
(They will be missed, but we're soldering on!!)
It really is a great day with lots of fun ideas.
And probably for the first time ever–one of my designs is actually a Halloween card!
(I don't DO Halloween, but THIS one is a CASEd idea I just couldn't pass up! Sorry! I'm not showing you yet….You'll have to wait until next week after my Shoebox Swappers make it!)
I will show you another we're making tomorrow, though.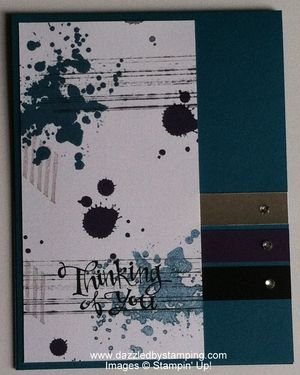 Have I mentioned I love Gorgeous Grunge?! 🙂
It makes for adorable, easy cards.
Just changed the colors up….Island Indigo, Elegant Eggplant, Basic Gray.
Also used Silver Foil paper and Sassy Salutations. (Sorry for the shadow-y image. Not very bright today.)
Perfect for a Shoebox Swap.
Can't wait for tomorrow!!
If this sounds fun to you, mark your calendars for next year!
(Right next to Red Flannel Days, right Courtney?!)
First Saturday in October.
Then do a little stamping of your own tomorrow–to celebrate with us.
Have a fabulous weekend!
Remember,
if you can fall in love with a project, you can learn to
create it! Here to help you channel your inner Creative
Genius…
Steph
LIKE me on Facebook.
Follow me on Pinterest.
Subscribe to my FREE newsletter, and receive my "5 Tips for Making Fabulous Hand-Stamped Creations."