Just a quick post for you today.
Finally got a chance to play with my Christmas Star.
(Single stamp available through January 3.)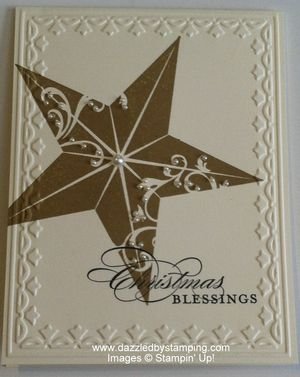 This is a simple card, even with all the pearls on it–especially if you use your paper piercing tool to lift and place the pearls on your project.
We happen to be making this card at the Shoebox Swap this Saturday, too!
(without the pearls)
It was already gorgeous, but I wanted to fancy it up.
I also used More Merry Messages from 2012 Holiday Catalog.
It's still available!
Click here to see what else carried forward.
Colors are Very Vanilla, Baked Brown Sugar and Black StazOn.
Oh, and you need the F block for this stamp, too.
Never thought I'd need it. Now I have 2 stamps I NEED it for!!!
Click here to see the other one.
Have a great day!
I know rain's coming later, but I'm loving the sunny, gorgeous day NOW!
Remember,
if you can fall in love with a project, you can learn to
create it! Here to help you channel your inner Creative
Genius…
Steph
LIKE me on Facebook.
Follow me on Pinterest.
Subscribe to my FREE newsletter, and receive my "5 Tips for Making Fabulous Hand-Stamped Creations."