No, NOT MINE, but thanks for thinking so!! 😉
This is the actual week (10/25) that Stampin' Up! turns 25 years old.
And they are celebrating with a BANG!!
Here's their "weekly deal" this week (10/22-10/28):
25 stamp sets (plus their Spanish or French versions) are discounted 25%!!
Click HERE to check out the list! (You can print it out.)
Click HERE if you want to view them ALL ONLINE right now.
Some of my favorites are on this list!! Have you ordered them yet?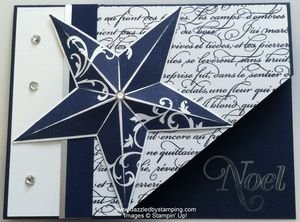 And did any of you order just the Artisan Punch on sale last week? This week the set is on sale…Label Love.
You can order any of these online through Monday, 10/28.
If you want to save a little shipping, I have 3 workshops closing by Friday.
Call or email me to add your order to my workshop!
Have a great day, and enjoy your savings!
Remember,
if you can fall in love with a project, you can learn to
create it! Here to help you channel your inner Creative
Genius…
Steph
LIKE me on Facebook.
Follow me on Pinterest.
Subscribe to my FREE newsletter, and receive my "5 Tips for Making Fabulous Hand-Stamped Creations."