Stampin' Up! just released (yes, they're available today!) new Thinlits Card Dies that create those amazing flip cards without trying to figure out all the cutting!
LOOK!
Here's a video with more details: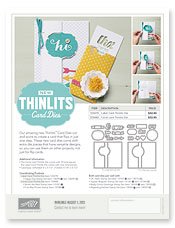 Did you see all the pieces you get?!?!
Both sets of dies are $32.95.
You can click this picture to view or print this document.
If you want to order these NOW, you can order online using hostess code TTCVWWZQ. A $50 order gives you a chance at $25 of FREE product if you place it BEFORE or AT my Open House tonight.
Have a great day!!! So excited for tonight!!!
Remember, if you can fall in love with a project, you can learn to create it! Here to help you channel your inner Creative Genius….
Steph
LIKE me on Facebook.
Follow me on Pinterest.
Subscribe to my FREE newsletter, and receive my "5 Tips for Making Fabulous Hand-Stamped Creations."