This is our last week of school! And graduation is coming up!!!
We can't wait!!
So, I have a couple grad cards to share with you….
And you know what I love? Both of them are using the Word Play stamp set!
It's one of my favorites.
(Do you remember this set is retiring?! You have 2 weeks left you can order it. Click here to order!)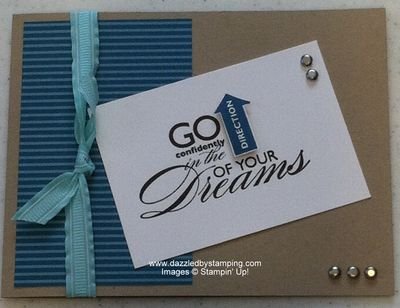 Colors are Crumb Cake, Island Indigo (In Color '11-'13 DSP) and Early Espresso + the retiring Pool Party Ruffled Ribbon [I had to use the rest of mine up….so cool!] and Metallic Brads.
Here's the one we made at my Occasions Stamp-a-Stack. (Yes, we actually DID get some stamping done amidst our laughing/crying!)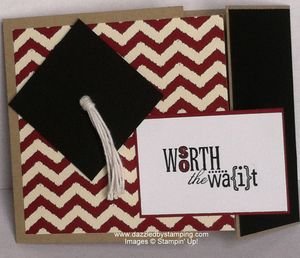 I love this saying with the grad card!
I think it's intended to be the "baby" greeting, but it works perfectly here!!
 To learn how I made the tassel, check back tomorrow.
Here's the inside of the card. I made a modified gate fold….
I wanted it off-center a bit.
Inside uses Teeny Tiny Wishes and the DSP is Parker's Patterns from the Spring Catalog (NOT carrying forward to the new catalog.)
Have a wonderful week!
Remember,
if you can fall in love with a project, you can learn to
create it! Here to help you channel your inner Creative
Genius….
Steph
LIKE me on Facebook.
Follow me on Pinterest.
Subscribe to my FREE newsletter, and receive my "5 Tips for Making Fabulous Hand-Stamped Creations."