Have I mentioned that I love my clubs?!
Well, let me go on record saying, "I DO LOVE MY CLUBS!!"
Which truly means I love my customers!
We had a fun class last night, and I'll have pics next week of the cards we made.
But no pics of people because 1) I never think of taking pics and 2) I was laughing/crying too hard to consider it!
However, I did think of taking one at my club Tuesday night! We had a great time then, too!
My sweet customer, Sue, has a great smile and a wonderful sense of humor but always seems to be the last one done stamping–and teases about how bad she is.
Well, Tuesday night she sat to my right, which–if you come to my workshops–you know is the person I pass all the supplies to FIRST.
When her card was almost complete, I realized she might actually be the first one done–and I told her so.
You should have seen her flying then!
Sweet little Sue at one point hoarded the Dimensionals and told Lynn she'd have to wait.
It was hilarious! She beat everyone, with a little help.
And of course, we needed a pic to commemorate her first time being done with her card first.
Sorry, Sue, that I caught you with your eyes closed. I'm STILL getting used to my camera/phone and didn't check the image. Plus, I was laughing at your excitement! *Ü*
And your smile is still the best.
So how do you like her card?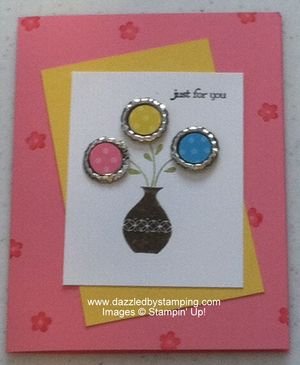 Here's a close-up of mine. Can you tell what the flowers are made of?
The smaller size of the Soda Pop Tops–run through the Big Shot.
Keep in mind that even though cardstock is used to help protect the cutting mats, the mats still get gouged.
Use old ones and/or plan to replace these.
I don't know what others do, but here's how I flatten my Tops:
Set up Multi-Purpose Platform with Tab 2 out of the way–or open. (like when using an embossing folder)
Place a cutting mat on platform…
Then a piece of cardstock…
Then your Soda Pop Tops (all 3 in a [horizontal] row makes them flatten more uniformly)…
Then another piece of cardstock…
Then your 2nd cutting mat.
Run it through the Big Shot; it will be a tight fit.
The Soda Pop Tops come out embedded into the cardstock, and you just pull them off and use as desired.
On our card, we cut out 1/2" circles of Brights DSP and just attached to the "flowers" with SNAIL adhesive.
We attached the flower to the card using Dimensionals. (Try to share. *Ü*)
The colors we used are Regal Rose, Daffodil Delight, Tempting Turquoise, Lucky Limeade and Early Espresso.
So we used a lot of retiring products on this card! Remember, this list is done June 3 OR May 31 for Spring Catalog items OR while supplies last on accessories.
Here's the list of items that will NOT be available in the new catalog. You can order now:
Hope you enjoyed the card–and are excited about Sue's accomplishment! *Ü*
Thank you to ALL my customers for fun events! I love you all!
(If you're looking for a fun, FREE night out, invite a friend to try stamping! I have a free class on Tuesday, 5/21. Click here for details and to RSVP.)
Have a great weekend!
Remember,
if you can fall in love with a project, you can learn to
create it! Here to help you channel your inner Creative
Genius….
Steph
LIKE me on Facebook.
Follow me on Pinterest.
Subscribe to my FREE newsletter, and receive my "5 Tips for Making Fabulous Hand-Stamped Creations."