Hey–
Just wanted to post a quick reminder about the fundraiser I have scheduled for Belay Youth Ministry.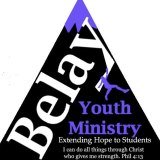 www.facebook.com/BelayYouthMinistry.
I'm getting so excited!!
We're crafting together next Friday night, 4/26, 6:30-9:30pm or however long you can/want to stay.
Bring:
$5.00 to "get in", completely donated to Belay Youth Ministry
your own project(s) & supplies (stamping, scrapping, knitting, a mailing you're working on….whatever you'd like to do!)
your own (non-alcoholic) beverage
I'll have a simple stamping project for you to make that night, plus a door prize I'll be raffling off.
Here's how we'll be donating to Belay:
$5 to get in (this is the only item required that night)
$1 per ticket for raffle drawing
10% of any purchases that night
10% of any online orders through 4/26, using hostess code MYPBZBDE
any additional amount you feel lead to donate–accepted but not required. *Ü*
If you'd like a receipt from Belay (a 501C3 non-profit ministry), make checks payable to Belay Youth Ministry. Otherwise, cash is fine.
Tell your friends! Bring your friends, and let's have a fun night together!
I'd love for you to RSVP so I can plan better for tables and spacing. But we certainly won't turn you away if you just show up!
Hope to see you soon!
Remember,
if you can fall in love with a project, you can learn to
create it! Here to help you channel your inner Creative
Genius….
Steph
LIKE me on Facebook.
Follow me on Pinterest.
Subscribe to my FREE newsletter, and receive my "5 Tips for Making Fabulous Hand-Stamped Creations."