I stole a few moments here and there to start designing my new journal….remember the new This and That product line?
The bundle is discounted 15% through April 30–and then it's not available until the new catalog launches.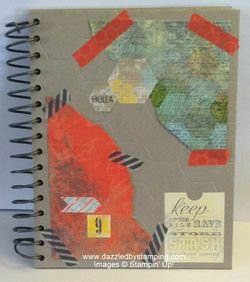 Here's how I started out:
I brought it along to work on during any non-busy moments at my fundraiser last Saturday.
Can I tell you a secret?
The project I had planned for a make-n-take only needed dimensionals, no SNAIL adhesive.
And I forgot to bring any adhesive to work on the journal!
So….everything on here is either attached with the Designer Washi Tape, This and That Designer Stickers or my Hung Up Cute Clips!!
I really like the Washi Tape!! It's so fun!!!!!
The journal itself is absolutely gorgeous. It already has a lot of design to it–even inside.
The only item I added to this right picture is the clip (used for the design on the other side.)
Everything else came this way! SO cool.
Ok, I have a question for you now….
How many of you know what a rotary stamp is?
Here's a picture.
I did not know it by name.
But I do know this stamp.
How many of you remember having your libary books stamped with it when you checked them out?
Wow! Is that a long time ago or what?
I even remember getting to work in our school libary and actually getting to USE one of those stamps to check out peoples' books!
I thought I was pretty special!!
My daughter, on the other hand, was a little freaked out by the stamp.
I was going to have her play with the bundle. She opened it when I was preoccupied with another project and didn't ask any specific questions.
She just kept saying, "I don't get it."
She thought she somehow had to twist the knob on the stamp and roll it across the cardstock at the same time to get it to stamp.
She packed the stuff back up and told me her thoughts later. She even mentioned the word "creepy."
Still makes me laugh.
I personally found it kinda fun. It's supposed to be a little bit messy.
I've heard it described as a smashbook.
Here's the flyer
and the details:
You can click on any one of the item numbers to view more closely or place an order….
Item

Description

Price

Epic Day This and That Journal

$10.95

Epic Day This and That Designer Series Paper

$10.95

Remember This and That Rotary Stamp

$5.95

Epic Day This and That Designer Stickers

$4.95

Epic Day This and That Designer Washi Tape

$4.95

Epic Day This and That Bundle
Includes the five This and That products listed above. Only available in a bundle until April 30.

$32.08
15% Off Retail Value!
Remember,
if you can fall in love with a project, you can learn to
create it! Here to help you channel your inner Creative
Genius….
Steph
LIKE me on Facebook.
Follow me on Pinterest.
Subscribe to my FREE newsletter, and receive my "5 Tips for Making Fabulous Hand-Stamped Creations."