First, let me just say "SORRY!" for not touching base and chatting sooner! It was a good week–just some things had to give.
So I was working on my Pin-spired card today (by now, yesterday). And do you ever have to just walk away?
Yah, me, too. I didn't think it was coming together.
Usually I ask Elizabeth to be my 2nd pair of eyes (both for creative genius–and sometimes for just plain finding things! I don't know how I can lose something that I just had in my hand 2 seconds ago!!!)
This time I had to walk away and move on to more pressing priorities. (My family might have STARVED!)
I'm finally back here with my card, and guess what! I LIKE IT!
Here's my original Pin-spiration: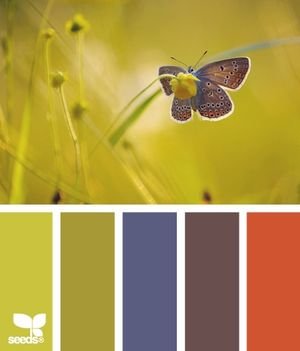 [Anyone know what kind of butterfly or moth this is?]
I like the simplicity of this picture and wanted the same for the card.
Here's my Pin-spired card: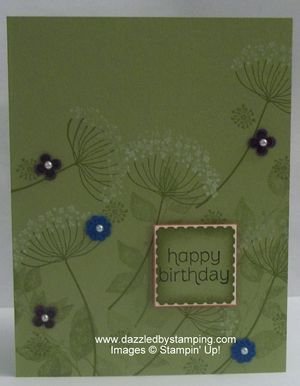 The colors I went with were Lucky Limeade with accents of Old Olive, Pacific Point, Elegant Eggplant, Tangerine Tango.
Now that the pics are close to each other in this post, I'm wondering if the base should have been Summer Starfruit.
What I love about the original picture is there's a lot of light in the picture–but not truly white (or even vanilla.)
I couldn't quite get that with this card, but what I do love is there's still a summer, airy feeling to the card with the dandelions…Queen Anne's Lace…[call it what you want] from Summer Silhouettes flying in the wind.
I used Itty Bitty Bits to add my accent colors, plus
Itty Bitty Shapes Punch Pack
Postage Stamp Punch
1 1/4" Square Punch
White Craft Pad
[medium] Pearls Jewels
How are you doing using Pins to inspire your crafting?
I'm enjoying myself!
Have a wonderful weekend! (I'm off to a Stampin' Up! Regional Seminar tomorrow [today] in Lansing. So excited!)
"See" you on Scrappy Monday!
Remember,
if you can fall in love with a project, you can learn to
create it! Here to help you channel your inner Creative
Genius….
Steph
LIKE me on Facebook.
Follow me on Pinterest.
Subscribe to my FREE (bi-)weekly newsletter, and receive my "5 Tips for Making Fabulous Hand-Stamped Creations."