Could there be a better combination than this Rich Razzleberry color combo and Chevron?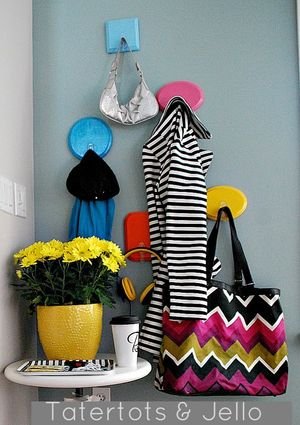 Seriously!
It's my Pin-spiration for the week! I loved it so much and found it a couple days ago and KNEW THIS WAS IT!!
I haven't even pinned it on Pinterest yet, because I wanted to surprise you with my (pin)spiration AND my project.
What's funny to me about this pin is it's not even about the bag! It's about the entryway hooks!
Hello?!?!??!
I'm just SO lovin' this.
Ok, so as said, I decided this was IT. On to the card….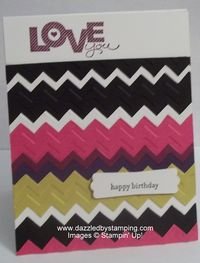 Ta-da!!!
Let me just say, this took a bit of persistance on my part.
Cutting out different layers of Chevron embossing?
Not suggested.
But I knew the end result would be worth the work.
If you choose to try it, cut your cardstock longer than the width you desire so you have leeway to line up well.
Colors are Melon Mambo, Rich Razzleberry, Elegant Eggplant, Summer Starfruit (plus black and Whisper White.)
The sets are Seasonal Sayings (one of the sets you can also order as a single stamp) and Teeny Tiny Wishes.
I'm in love…………..
Hope you're enjoying your weekend!
Remember,
if you can fall in love with a project, you can learn to
create it! Here to help you channel your inner Creative
Genius….
Steph
LIKE me on Facebook.
Follow me on Pinterest.
Subscribe to my FREE (bi-)weekly newsletter, and receive my "5 Tips for Making Fabulous Hand-Stamped Creations."