Hope your Monday's been great!
I'm here for Scrappy Monday….I had so much fun with my Razzleberry Splash scraps last week, I decided to work with some more of them!
Here's my Splash Scrap Collage:
I had a Labels Collection Framelit diecut and attached all my scraps to it.
I actually did run it through the Big Shot again when I was done, but I just realized that I could have just flipped it over and trimmed off the excess DSP.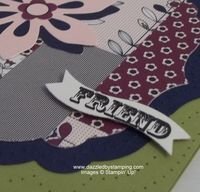 Then I went CRAZY with the [Labels] Essentials Paper-Piercing Template!!
I just had a lot of fun with this card!
Besides the Razzleberry Splash Simply Scrappin' Kit, I also used Family Reunion and the Bitty Banners Framelits, pg 191, too.
So are you finding new ways to use your scraps? I'm kinda lovin' this!
Remember,
if you can fall in love with a project, you can learn to
create it! Here to help you channel your inner Creative
Genius….
Have a great week!
Steph
LIKE me on Facebook.
Follow me on Pinterest.
Subscribe to my FREE (bi-)weekly newsletter, and receive my "5 Tips for Making Fabulous Hand-Stamped Creations."