That's how many projects you can make with one pack of Stampin' Up! Designer Series Paper (DSP)!!!
The more I "work" on using up my scraps (especially for my "Scrappy Mondays"), the more I realize how much you can do with just a little DSP.
Today I have a specific pack in mind….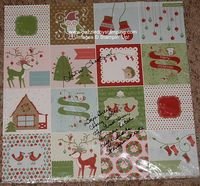 Snow Festival, pg 10 in the Holiday Mini.
If you look in the catalog, the 4th design–strips & strips of designs–is what attracted me to buy.
But when I got it home, what I fell in love with was the design that–in MY pack–was in the front….These 16 3×3 squares.
Immediately what I thought of was I now have (2 sets–2 sheets each) 16 fresh, new Christmas giftcards!!!
I don't often use this size with all my family's gifts, but I use it often "outside" of the house.
So how perfect is this DSP?! You could just cut up that sheet, attach each to any coordinating 3×3 card (cut 3×6) and maybe write or stamp a greeting on the front (or not)!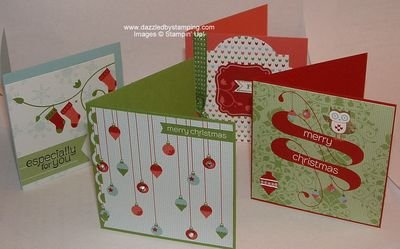 Just to show you some ideas, I did a little more. You can, too, but the cool thing is you don't have to! You could even punch a hole in the corner and run some Sweater Trim through it for an added touch.
The colors I used were Baja Breeze, Primrose Petals, Gumball Green and Cherry Cobbler. Especially the Primrose is hard to see.
For that one, though, I used the Window Frames Collection of Framelits, pg 30 in mini.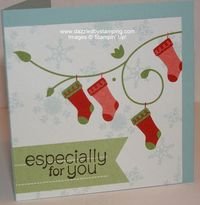 Surprisingly, my favorite idea here is the one to which I did the least. 
IT'S JUST CUTE.
Also used Made for You (click for images) stamp set.
Simply sweet if you ask me.
There's so much more you can do with this DSP! But I just thought I'd tease you with a practical use. (Now you NEED it, right? *Ü*)
Check back tomorrow for a new "Pin-spired" idea.
OH! One more thing………..
I have a very tiny sneak peek at my Nested Gift Box we're making at my Mini Camp on Tuesday, 9/25.

I wanted it as simple as possible, and look at the cool DSP we're using!!!!!!!
It's Natural Composition Specialty DSP, pg 162 in catalog. It honestly meant nothing to me in the catalog.
THEN I SAW it! It's Crumb Cake with already clear embossed designs. It's gorgeous!
If you want to use it, sign up for my Mini Camp in the next 2 days. You have until Saturday, 9/15, to register.
Remember,
if you can fall in love with a project, you can learn to
create it! Here to help you channel your inner Creative
Genius….
Steph
LIKE me on Facebook.
Follow me on Pinterest.
Subscribe to my FREE weekly newsletter, and receive my "5 Tips for Making Fabulous Hand-Stamped Creations."