I hope you've had a wonderful start to your week!
Mine was fabulous!!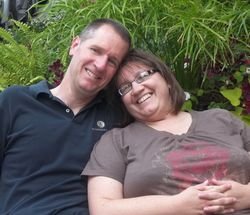 Todd had a half day today. We were done with school shortly after he got here.
And we made an impromptu trip to Art Prize 2012 (Grand Rapids, MI) after a lunch out.
The weather was gorgeous! And we just had a great time!
Whenever we have a fun, impromptu day like that in the middle of the week, Todd always says it feels like a stolen day! (One of the perks of homeschooling. *Ü*)
So I'm finally here for Scrappy Monday, using up some scraps of time from my fun day!
One of the visions I had for this idea of using up scraps was using scraps leftover from my Simply Scrappin' Kits.
I just had a class with the Razzleberry Splash Kit, so of course, I have scraps from that.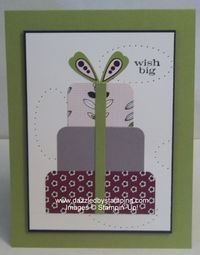 Not only did I use the DSP, but I also used a strip of cs and a couple of the stickers! (The bow is supposed to be leaves for the flowers from the kit)
I originally had in mind that this was going to be a birthday cake and rounded the corners; then I saw the cs strip and thought of the bow.
I kinda like!
Oh, and I've so been enjoying our new Paper Piercing Templates! I really like making a background with one of the shapes on one of the templates.
Can you see it?
If not, I used the oval that's in the middle of the Decorative Label Punch from Essentials Paper-Piercing Pack.
"Wish Big" is from Pennant Parade. Cute set.
Enjoy the rest of your week!
Remember,
if you can fall in love with a project, you can learn to
create it! Here to help you channel your inner Creative
Genius….
Steph
LIKE me on Facebook.
Follow me on Pinterest.
Subscribe to my FREE weekly newsletter, and receive my "5 Tips for Making Fabulous Hand-Stamped Creations."