The Stampin' Up! Holiday Mini Catalog is "live" today!! You can order from it any time. And there's so much cool stuff in it, I can't even keep track of it all!
(NOTE: That also means you can view the Stampin' Supplies for the mini–at the right.)

In fact, if you hadn't noticed [I DIDN"T; my customer Dot brought it to my attention], not only are there coordinating stamp sets and framelits [4 sets if I counted correctly]….
But those products are also available in bundles at a discounted price!! How cool is that?!
I have a couple samples to show you today–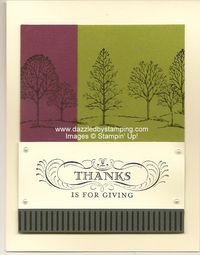 combining the old and the new. The first involves the really old!! I paired Lovely As a Tree with a couple of my favorite colors and Seasonal Sayings (pg 34, Holiday) and 1/2" Striped Satin Ribbon (pg 26, Holiday.)
I really love the look of the ribbon; it actually looks like a strip of DSP at the bottom. And I couldn't resist the Sayings. (I have to admit that I bought them mostly because of the Christmas and Love stamps, though.)
You'll definitely see it at my Christmas Stamp Camp! (Are you signed up yet?!)
I really like the sentiment for "thanks", too, though….Simple, thoughtful and lovely.
If you've checked out my facebook page
in the past week, you've probably already seen these Brushed Bronze Buttons (plus more of the Howlstooth & Scaringbone DSP.)
I like these A LOT MORE than I even expected, and I treated my ladies last night [at my Betsy Meets Dot Class] to a sneak peek. Here's one of the cards we made with Betsy's Blossoms & Polka Dot Parade DSP.
I've seen a few cards online with this general layout, and "Betsy" & "Dot" work perfectly with it.

Thanks for checking in! I'll be back tomorrow with more to share.
Remember, if you can fall in love with a project, you can learn to create it! Here to help you channel your inner Creative Genius….
Have a great week!
Steph
LIKE me on Facebook and get all my posts delivered automatically to your newsfeed.
Click HERE to subscribe to my FREE weekly newsletter and receive my "5 Tips for Making Fabulous Hand-Stamped Creations." Don't miss out!