I'm so absolutely excited about COLOR!! And I love when I see Stampin' Up! colors out in the "real" world….you know….when I leave my stamping room?
Todd sometimes teases me and beats me to call something in the store by the SU! color name. (He often messes those up, but I love his humor in trying!)
Another side note….At our Sunday School Picnic a few weeks ago, the married couples had a game in which they each had to answer a question (on paper without being next to each other) and the answers themselves had to match each other [exactly] to "get credit"….
So the question was, "What's your wife's favorite color?" 
He didn't know whether to put down purple or Rich Razzleberry. I LOVE that he remembered the name!!!! (Good job, honey!)
By the way, we both put down purple. (I wasn't sure he'd remember. NEXT year, we'll put down Rich Razzleberry if we're asked. *Ü*)

Anyway, I've recently been scouring Pinterest boards, and of course, COLOR is a focus of mine. I found a combo that I don't think I'd come up with myself, but I couldn't wait to try it out!!

Here's my card:
I adore the modern look and feel of it!!!
The colors are Summer Starfruit, Basic Black (duh!), Tangerine Tango and Gumball Green.
Sets are Button Buddies (pg 40) and Petite Pairs (pg 134).
The DSP is both Howlstooth & Scaringbone (pg 24, Holiday Mini) and Neutrals Collection DSP Stacks (pg 162.)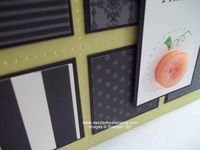 I, of course, also used the Essentials Paper Piercing Pack on the card base and around the pumpkin itself.
Have I told you I LOVE THAT TOOL?!
Ok, so here's my inspiration….
My house is definitely NOT modern, but I SO ADORE the look!!!

It's crisp, clean, vibrant….
So what do you think?
One of my favorite things about this color combo is the rather unexpected splash of the Tangerine Tango.
I tend to be a symmetrical type of person, and when I coordinate colors, I feel like I need to have an accent color somewhere else in the card, too.
This is NOT that; it's a splash, and I love it!
I love to color outside the lines sometimes.
However, now that I mention it, it is a sore subject….I still remember getting a frown face on a coloring page in Kindergarden. The teacher said I needed to take my time.
That's kinda funny to me at the moment, because I'm still a stamp-n-go kind of girl!
Oh! Another revelation!!!!! Now I know why I don't like to color!!!!!! HA!!!! It's all my teacher's fault.
Kidding!

I remember it was green–probably a big tree. I actually do enjoy coloring in color books, but I still don't like having to color one great big area–like a tree.
Ok, one last thing….(feelin' kinda gabby today)
I have a few boards on Pinterest, and I designed one for YOU–literally!
I'd like you to share the creations you've made with Stampin' Up! products–or even pics of you using them. And I even have a CONTEST open for the next couple weeks. (The board will stay there for you to share, though.)
By September 7

Pin a Stampin' Up! creation of yours to my "Be My PIN Guest" Board.

To be able to do this, I need to Invite you….

Easiest way to an invitation? Follow me; I'll follow you and Invite you.

Repin entries to vote.

Most repins wins Festival of Prints DSP Stack (pg 20, Holiday Mini)

Pin as many projects as you like (anytime–even after September 7)

Repin to vote as many times as you'd like.

Thanks for participating!! Good luck!!

I love color and I love having more spots to check for inspiration!
Remember, if you can fall in love with a project, you can learn to create it! Here to help you channel your inner Creative Genius….
Steph
LIKE me on Facebook.
Follow me on Pinterest.
Click HERE to subscribe to my FREE weekly newsletter and receive my "5 Tips for Making Fabulous Hand-Stamped Creations."