I have to tell you my #5 Reason to Smile is just little kids, in general….most often my nieces and nephews (and my own when they were little).
They just CRACK ME UP!!!
My sister Teresa shared this story with me:
"I have to tell you something that happened yesterday. We have had issues with bugs here. [Florida] Isabela especially has been effected. There have been times that she wouldn't go to the bathroom because of a tiny bug. Yesterday she finally warmed up to one. I saw her talking sweetly to her arm and I asked her to come over so I could see. She was saying, "look it loves me!" The look on her face was pure adoration but at further inspection I saw she had a mosquito on her arm and I smashed it. That, of course, freaked her out and any progress forward is lost."  As Teresa said, "It's one for the books!"
Poor Isabela! I can only imagine! She's a self-proclaimed princess, by the way. She's about to turn 4, and a couple years ago when the doctor was asking her brother if he was a boy or girl, she announced "I'M a PRINCESS!" Don't think bugs and princesses go well together. *Ü*
So here's my sample #5.
 Reason to Smile is such a cute set, and I had to use another favorite color combo: Rich Razzleberry!, Early Espresso and Pink Pirouette. The designer paper is International Bazaar again.
The Pink Pirouette here looks much darker than in real life. PP is a very soft pink.
Notice how soft/muted the Rich Razzleberry is behind the daisy detail again. It's a 2-step stamp set. I just really like that look.  Does anyone else think these look like Gerber Daisies? (That was what I was thinking of when I made Wednesday's card. I just forgot to mention.)
Just simple and cute!  What could be better?! (That's a Reason to Smile all in itself, isn't it?)
Ok, one more cute story….
I watch little neighbor boy an hour or less a day. Jalen is 3 1/2, and we recently started playing with walkie-talkies. (I finally put batteries back in them.) His face lights up when my voice comes through on his.
Well, you have to picture that he doesn't quite know how to use it. I keep telling him to push the button. So he pushes the button, let's go, and says, "Sepheenie?" (His voice is precious; I have always loved hearing how my name changes as each child grows up. Before that, it was "Tepheenie." Somewhere in there it was "Tephie.")
So here's our exchange….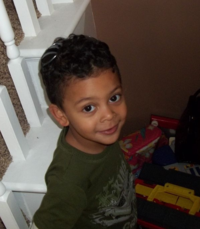 (In the corner 8 ft away with his back to me…)
"Sepheenie?"
"Yes, Jalen."
"Wha tchoo do-een?"
"Just sittin' here; wha tchoo doin'?"
"I'M goin' in a SPACESHIP!"
"WWW-OOOOO-WWWW!!!" (as loudly as possible)
(under his breath) "tsss….That's cute."
I died laughing! The funniest thing is I think he was talking about himself, not my reaction, because he did it again later about something else we were "teasing" about. Obviously, he's hearing that a lot lately or something.
I hope you've been counting your blessings this week along with me. We have lots of Reasons to Smile.
Remember, if you can fall in love with a project, you can learn to create it! Here to help you channel your inner Creative Genius….
Have a great weekend!
Steph
Click HERE to subscribe to my FREE newsletter and receive my "5 Tips for Making Fabulous Hand-Stamped Creations." Don't miss out!