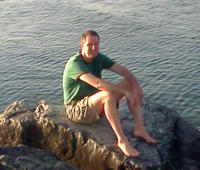 Blessing #3 is none other than My Best Love!
I told you we were on vacation last week….No huge plans,but we did have a few specifics we wanted to work into our week.
So early in the weekend, we kinda loosely planned where everything was going to go. Todd's definitely a planner, but I was pushing it more, because I needed to plan our meals and pull stuff from the freezer, etc..
So when I was asking for ideas for food, he said, "Let's just make it easy. I don't want you to have to do too much work….We can grill a few times……….."
HELLO!!! Did you HEAR that?! That's music to my ears!
I'm not usually too extravagant, but I do cook.  And I totally loved him taking off any pressure!
Well, the week ended up being full of grilling and going out to eat! I adore eating out!! And Todd is a great griller. He makes the best burgers, by the way! But we also had chicken and salmon. (I'm very thankful he endured the heat to grill and took us OUT, too!)
Loved it!!  He's the best, and I appreciate him so much!!
Oh! And he even treated us to Captain Sundae…..TWICE!!!!! Have you HAD their buttered pecans?!?!
Did….
twice…..
I'm not at all a pecan person, and I'm not really a huge ice cream person either, but "Tommy" rocks!!! (This could be listed as it's own little "reason to smile", but I'm crediting it to Todd.)
Thanks, My Love!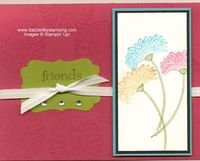 Reason to Smile sample #3 actually even looks like I colored a little bit! (but barely!)
The colors are Melon Mambo, Tempting Turquoise, Tangerine Tango and Old Olive. (I've been relying heavily on the Color Coach. It's such a great tool!)
The flower stamp I used was the one with the detail. I used markers directly on the stamp and breathed on it to re-wet. After I stamped it, I used a slightly wet Aqua Painter to spread the color a little on the petals.
Voila! Looks like I colored! But it was more like a kid's watercolor book where you only add water. (Remember those? I haven't seen one in a long time.)
Such a fun stamp set! (Here's the flyer again. Only available through July 31.)
Hope you're counting YOUR blessings and finding your OWN reasons to smile! Tell me yours below. (Thanks for sharing, Cindy.)
Remember, if you can fall in love with a project, you can learn to create it! Here to help you channel your inner Creative Genius….
Have a great day!
Steph
Click HERE to subscribe to my FREE newsletter and receive my "5 Tips for Making Fabulous Hand-Stamped Creations." Don't miss out!