THANK YOU SO MUCH to those of you who showed up at my open house Saturday. I guess we had a little more than "standing room only", but I DO love a full room of friends!
Hope you all had as much fun as me!!
For those of you who couldn't make it, YOU MISSED OUT!!…on 3 new projects (4 if you shared a new friend with me) and a chance at winning cool door prizes:
the new Essentials Paper-Piercing Pack
Chevron Embossing Folder

(

Ask Mary Kay how her month is going! *Ü*)

In Color Dahlias
Vintage Faceted Buttons.  
Speaking of which, the winner of my RSVP Blog Comments random drawing was Connie Good!! Congrats, Connie! She's getting a sampler of designer paper: Floral District, Comfort Cafe, and Be of Good Cheer.
Oh, man! Back to door prizes….Those new faceted buttons ROCK!!! They make your card look like you have a huge faceted piece of glass on your card. I seriously LOVE them!!
There are 3 sizes, and I just adore the HUGE one. Of course, you know they will require extra postage if you mail them.
But it's worth it!!!!!
To see the card we made with the faceted buttons, you'll have to sign up for my free newsletter on the left. I'll have a pic and tips I shared for the card in my newsletter tomorrow.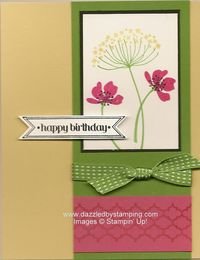 This card we made uses a new set Summer Silhouettes and the same color combo as on Keana's Pop-up Card I showed you a couple weeks ago.
(Remember, it's from the Color Coach–Gumball Green, So Saffron, Melon Mambo.  So good!)
How cute are the little stamp of flowers (looks like Queen Anne's Lace) in So Saffron on top?!
This set is easy to work with because the pieces are separate (2-step)…you don't have to use markers to get the  different colors.
And then there's the ribbon! If you haven't played with it yet, you'll love it!  It's a good thickness and easier to tie than some.  It TRIES to work WITH you. (How thoughtful!) 
Many of my customers from Saturday will receive some of each color with their orders. You still have that opportunity through today. (Read last week's newsletter if you haven't already.)
Thanks for checking in today!
Here to help you channel your inner Creative Genius…
Have a great day!
Steph
Subscribe to my free newsletter, so you don't miss out on anything I have to share with you!