Hey–
Are you coming to my New Catalog Open House tomorrow?!  And are you bringing a friend?  I can reserve a couple spots for you at my VIP table!
Remember, you get extra perks for sharing a new friend with me.  (Read HERE for details.)
I'm so excited for my open house, and I've been having a blast playing with new stuff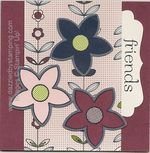 myself! One of my favorite stamping activities starts with a Simply Scrappin' Kit….
I divide it in half and start playing!  I JUST LOVE IT SO MUCH!!!
So, Razzleberry Splash is "done" and ready for class in August.  Here's a sneak peek. This is one of the 3" x 3" cards we'll be making. Can you tell why I love it?!
You can see the rest of the designs at the open house.  Sign up by August 2. Space is limited.
Have a great weekend!  Hope to see you tomorrow!
Here to help you channel your inner Creative Genius…
Steph
Subscribe to my free newsletter, so you don't miss out on anything I have to share with you!