Do you realize it's Father's Day in less than a week? Sometimes MY mind doesn't "sync" everything properly.
(Yes, even though, I'm hosting a Masculine Mini-Stack Thursday! )
So I thought you might need a reminder, too!
Are you stumped for a card or gift idea for your dad, husband, or another special male in your life?
Well, some of you may be coming to my Mini-Stack….BONUS!!
The rest of you may just need a few tips for designing your own masculine masterpiece. So here they are:
Simple Steps to a Masculine Masterpiece
1) Choose the right stamp set.
You can go with an obvious look of tools, cars or sports. But if that's not your stamp-buying-style, go for nature, geometric shapes or something vintage or collage-able.
Using an alphabet set as a background or for a small greeting is another way to "set the masculine tone".
(By the way, do you own Lovely as a Tree yet? SUCH a versatile stamp set!  It has been a MUST HAVE for at least 10 years! Perfect for masculine cards–even available in clear-mount this year.)
2) Choose the right color.
Neutrals and "cool"–as opposed to "warm"–colors work great!!
Browns…black or gray…greens or blues…even deep purples and burgundys….
And make sure you add a little white or vanilla. Your design does NOT "pop" without it!
3) Go "mono-chromatic".
Once you choose a basic color, use different shades of that color–plus your white or vanilla–to complete your design.
4) Add texture.
Using a basic embossing folder (with the Big Shot) like Square Lattice or the new Chevron for part of your card will really help give your card that masculine feel.
Or you can tear or distress ("rough up") the edges of some of your layers.
5) Add any embellishments wisely and sparingly.
I always think of masculine cards as being pretty straightforward. (Go simple.)
However, it's amazing what a little metal will do for the design!! Like Antique or Metallic brads or Vintage Trinkets.
Put a few of these steps together to see how your masculine masterpiece turns out.  If you have your own tip to share, leave a comment.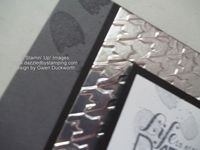 So, how do you like this peek at a masterpiece? I received it from another demonstrator, Gwen Duckworth when I participated in a swap at a seminar recently.
Didn't she do a great job?! She hit all 5 tips–such brilliance!  Thanks for a great idea, Gwen.
I FELL IN LOVE with it, and I will be making it my own for my Mini-Stack on Thursday.  (So that's why I'm not showing you the whole card.  You'll have to wait!)
Good luck making your own masterpiece….Let me know how it goes!
Remember, if you can fall in love with a project, you can learn to create it….
Here to help you channel your inner Creative Genius….
Have a great day!
Steph
Subscribe to my newsletter.